Mrs.Urmila Bhargava, aged 79, a Postgraduate is theManaging Director of IFP Petro Products (P) Ltd. She has a distinction of being the only woman re-refiner in the world. She started her entrepreneurial journey in 1977 due to the sudden demise of her husband and today has a vast experience of 38 years of industrial working.
At a time when our society was not very kind towards working women, Smt. Urmila Bhargava stood as an ultimate icon of courage, dedication and entrepreneurship. She knew that the best way to achieve woman emancipation was to attempt to do what even man think ten times before doing this. She led by example from the front and nurtured IFP as her baby.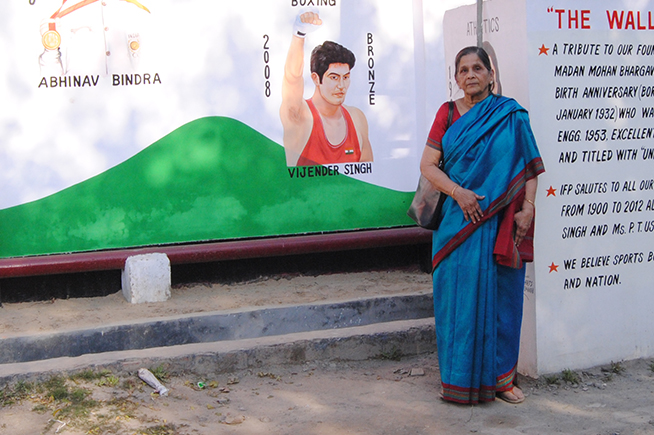 Managing enterprise, big or small is nothing but interplay of constraints and opportunities which she managed very efficiently with keeping her head high. At the time of her personal loss, she gathered the courage not only to overcome that loss but focussed on big things of life which she lived all through. She remained determined in the face of all odds is an inspiring story for young entrepreneurs, particularly women entrepreneurs to emulate.
Today she carries a vast experience of more than 40 years of industrial working behind heracross various functional areas including product management, marketing, strategy, business development, R&D, process in the used oil re-refining space. Experience is not what happens to an individual, it is what an individual does with what happens to him or her. She never lost sight of her mission and values of business with dignity & honesty which sets her apart from the lot.
She was able to make a major name in the government due to her honesty and principles and for this reason she was made Convenor of task force for lubricating oil with Ministry of Petroleum, Environment and Industries.
Under her able leadership, IFP Petro Products increased its annual capacity from 500 KL to 6000 KL, developed a cutting edge technology to extract base oil from used oil exceeding virgin base oil specifications without using expensive hydro-finishing technology, meeting the twin challenges of colour and odour.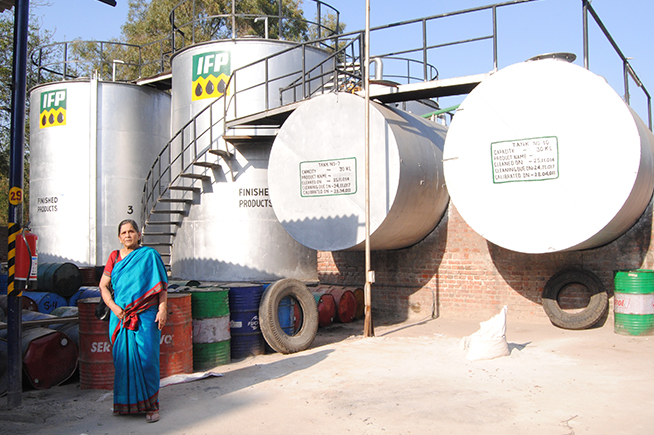 To be the best in quality and most competitive in price, IFP Petro is the first fully integrated facility with used oil re-refinery, blending & filling facility in North India to provide cost effective solutions under one roof to major oil companies.
Her zest for life and never say die attitude has been the guiding force for IFP. Her rock like will power and eternally positive attitude has created and nurtured the organization like IFP. She has a multi faceted personality. She has written a book in 2012 "SORRY NOT FOR SALE" is a compelling story of a woman entrepreneur who proved wrong to all the nay Sayers that used oil re-refining was not a domain for a woman entrepreneur. Recently she has launched her own Audio CD "NISHAAN". She has been true leader who was harvester of hope and trader in trust. She has left behind her footprints to be followed.
She has been committed to giving back to society since childhood. Over the years she has sponsored the education of four underprivileged girls to empower them. She believes that educating a girl educates her family. She is also a part of Anudaan Society, since 2010, which runs Prateek, an institute for mentally challenged children belonging to the below poverty line section of society. She has been instrumental in setting up their kitchen for free mid day meal, raising funds for purchasing the plot and completion of the building.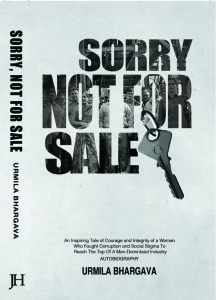 Her book Sorry Not For Sale can be purchased in paperback on Amazon.